Down, down …

water reserves hit dangerous low

Source:http://www.sundaytimes.lk/190721/news/down-down-water-reserves-hit-dangerous-low-359054.html

By Shaadya Ismail

Reservoirs are only 20 per cent full and generation of hydro-electricity has stopped even though monsoon rains are falling heavily in parts of the country.

"In 29 years, this is the worst drought-affected result," the Power and Renewable Energy Ministry said.

Energy costs are rising sharply because the reduction in water inflow to the reservoirs means the ministry cannot use water to generate electricity and is reliant on thermal and coal power.

"We have applied for a loan of Rs. 15 billion from a state-owned bank in order to keep up with the expenditure," the ministry's Director of Development, Sulakshana Jayawardena, said,

He said the current water level at the Castlereagh reservoir is 33 per cent; at Maussakelle, 36 per cent; Kotmale, 45 per cent; Victoria, just 15.2 per cent; Randenigala, 26.7 per cent; Samanalawewa, 19.9 per cent.

Water stocks in the reservoirs are expected to decrease further, and Irrigation Department Director-General S. Mohanaraja urged farmers to adopt water-saving methods of agriculture.

The Ministry of Agriculture said this was the worst Yala season Sri Lanka has experienced.

The ministry's Director of Socio-Economics and Planning, Dr. R.M. Herath, said more crops would be affected if good rains do not come soon.

Farmers in irrigated areas such as Polonnaruwa, Ampara and Batticaloa have been asked to use water cautiously. As an initiative to encourage cultivation during drought periods the ministry cultivated paddy on 330,000 ha – this was mostly a success although 20,000 ha was spoiled by drought.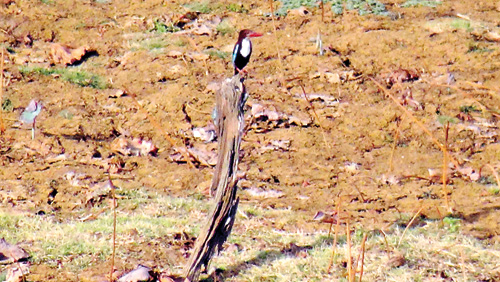 The Disaster Management Centre (DMC) said almost 162,000 families are in hardship because of the drought, mainly in the North-Western, North-Central, Eastern and Northern provinces where only low rainfall is expected in the next two weeks.
The department has so far spent more than Rs. 60 million on drought responses including transporting drinking water to families by a network of 600 water bowsers and supplying 20,000 water tanks.
In the rest of the country the south-west monsoon is bringing landslides, floods and heavy winds that have killed seven people so far and left more than a thousand families in hardship.
While the prevailing heavy winds will not result in cyclonic conditions, wind speeds could increase to 70-80kmph in the Western, Southern, Central, Sabaragamuwa, North-Western and North-Central provinces and in the Trincomalee district, the Meteeorological Department said.
Thunderstorms are expected in the Sabaragamuwa, Central, Western, Southern and North-Western provinces and the public has been warned to avoid injury from lightning strikes.
Heavy falls of about 100mm are likely in parts of the Central and Sabaragamuwa provinces. The National Building Research Organisation (NBRO) issued warnings about the risk of landslides, slope failures, rock falls and cutting failures in districts such as Ratnapura, Kandy, Nuwara Eliya, Kegalle, Kalutara, Matara and Galle. Evacuation warnings have been issued to residents in parts of the Ratnapura, Imbulpe, Ambalangoda, Ambagamuwa, Nuwara Eliya, Kotmale and Udapalatha divisional secretariats.
Compensation up to Rs. 2.5 million can be claimed for property damage while Rs. 250,000 can be claimed for loss of life, the DMC advised.