Easter Sunday attack Aftermath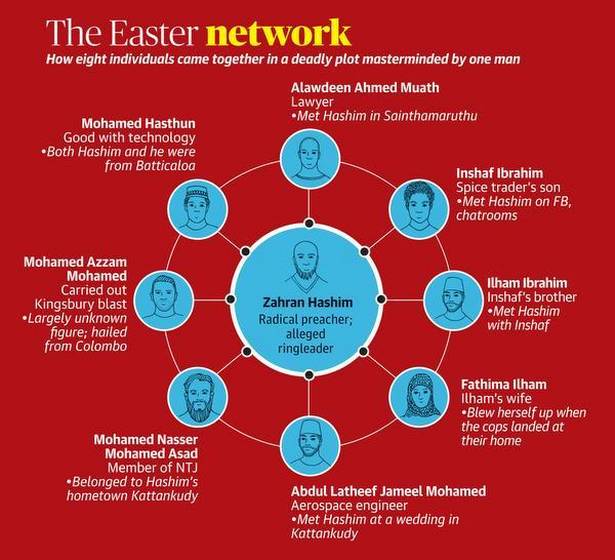 Crime Investigation Department have released the names & photos of six suspects wanted in connection with Easter Sunday's bomb attacks & Three of them were females. Police department is seeking public assistance to arrest them. Police arrested 7 suspects with bomb gear from a house in Sammanthurai, Ampara & the search was based on information provided by National Intelligence officers. A gun battle & Explosions had been reported during the operation after this incident & curfew was imposed in the Kalmunai, Sammanthurai, and Chavalakade police areas. On 12th May Police curfew was imposed in Chilaw as a result of an escalated argument between two people over a post on Facebook & argument was the result of a comment made by the Muslim shop owner on a Facebook post. The person responsible for posting this comment was arrested by the police and stated that the law will be enacted against him based on emergency regulations. Timeline of the explosions and subsequent events on Sunday is as follows,
Time Line
| | | |
| --- | --- | --- |
| 8.45 am | – | Explosion at Shangri La hotel in Colombo |
| 8.45 am | – | Explosion at St. Anthony's Church in Kochchikade, Kotahena, Colombo |
| 8.45 am | – | Explosion at St. Sebastian Catholic Church in Negombo |
| 8.45 am | – | Explosion at Kingsbury Hotel in Colombo |
| 8.50 am | – | Explosion at Cinnamon Grand Hotel in Colombo |
| 9.05 am | – | Explosion at Zion Roman Catholic Church in Batticaloa |
| 11.30 am | – | Emergency Security Council meeting held by Prime Minister Ranil Wickremesinghe |
| 11.40 am | – | Government declares the closure of schools across the country for two days |
| 12.15 pm | – | President Maithripala Sirisena appeals for people to keep calm |
| 1.45 pm | – | Explosion at New Tropical Inn in Dehiwela, near the national zoo. This was the seventh explosion |
| 2.15 pm | – | Explosion at a house in Dematagoda, Colombo, during a police raid (the eighth explosion). Three police officers were killed. |
| 2.20 pm | – | Officials close down the island nation's zoo in Dehiwela. |
| 2.30 pm | – | The government blocks major social media networks and messaging services, such as Facebook and WhatsApp. |
| 2.45 pm | – | The government declares an indefinite island-wide curfew. |
| 4.00 pm | – | All transport services stopped. |
| 4.30 pm | – | The government declares the closure of all state universities indefinitely. |
| 5.00 pm | – | A special cabinet meeting held, headed by Prime Minister Wickremesinghe. |
| 5.20 pm | – | Police announce the death toll had risen to 207 with 450 injured. |
| 7.00 pm | – | Police find a van used to transport explosives. |
| 7.15 pm | – | Tourism chief says 32 foreigners killed and 30 injured. |
| 8.50 pm | – | Prime Minister orders a probe into why intelligence services failed to act on a warning about the attacks. |
| 9.30 pm | – | Police said 13 arrested, all Sri Lankans. |
| 10.30 pm | – | A petrol bomb attack on a mosque and arson attacks on two shops owned by Muslims are reported in two different parts of the country, police said. |
Politicians Response
United National Party MP Prof. Ashu Marasinghe said that he will present a private member's motion proposing a ban of the burqa and the niqab to Parliament because they can be used as a disguise for criminal and terrorist purposes & the dangers are too great. Also, female accomplices of incidents in Dematagoda too had escaped wearing burqas. United National Party MP Mujibur Rahman added that the burqa and niqab were never part of the traditional attire of Muslim women in Sri Lanka. The attire can be used for different personal agendas which would be a great risk to national security. Terrorism Investigations Division (TID) chief DIG Nalaka Silva revealed that there was an open warrant issued by a Colombo Magistrate back in August 2018 for arrest National Thowheed Jamath (NTJ) leader & who was the mastermind behind the Easter attacks Mohamed Zaharan. The open warrant had been issued for spreading disaffection among communities and also, for proposing terrorism. Also, TID requested the magistrate to issue a blue notice upon Mohamed Zaharan.
Investigations
Police arrested 40 more suspects including the van driver who drew the van which used by suicide bombers & the landlord who rented his house to suicide bombers. A decade after the Sri Lankan civil war, the Sri Lankan army was given a broad impetus to detain and arrest suspects to control the situation. These attacks identified as the deadliest incident of South Asian island nations of the decade. 
References